Chiropractic Clinic For Corrective Care in Chicago IL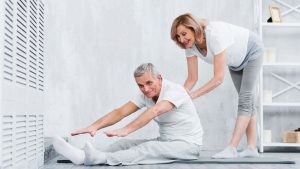 Do you suffer from pain or other symptoms due to an injury?  Our office is the best chiropractic clinic for corrective care in Chicago. We offer several treatment options including a natural solution to relieve and manage pain or other symptoms due to an injury.
Understanding pain or other symptoms due to an injury and how it affects you may help you relieve and manage it with routine chiropractic care at our clinic.
Chiropractors for Corrective Care in Chicago
Teaming Up For Optimal Health
Eliminating pain and other symptoms is sometimes the easiest part of a person's recovery. Usually as a person recovers from an injury they will have some good days and some bad days and this is the time where we want to try to strengthen the body to prevent recurrence of that severe pain and inability to function as you did before your injury. At this point in your treatment your doctor will teach you specific stretches and different types of exercises to help get your body moving better and with less pain. Eventually you will progress into strengthening exercises that are specific to your condition which help to speed up the healing process. These exercises get your blood moving and help to strengthen areas that may be weak, making you susceptible to recurrent injury. It is important that you continue to do these exercises long after you have stopped coming to our office for treatment.
Always remember, it is common to experience mild flare-ups of your symptoms on occasion. Don't be discouraged if this happens. It is normal to have good days and bad days. This is normal since the injured tissues may not yet have healed completely.
If you want to see if chiropractic care is right for your condition, please contact the best chiropractors for corrective care in Chicago to get the best treatment possible. Call or contact us today to schedule an appointment.